What are my options?
It can be a challenging time when you are faced with an unplanned pregnancy. We are here to help you learn about your options and make a decision that is right for you.
Call us at 806-780-6853 or text us at 806-317-4480 to make an appointment today.
Abortion Option
Abortion is a procedure that can happen various ways, depending on how far along you may be. Typically, you need an ultrasound before having an abortion. It is important for you to have all the information on abortion to be able to make a fully-formed decision. Make an appointment with us if you need help processing, want an ultrasound, or need more information about abortion. Please read the booklet linked below.
Adoption Resources
Parenting may not be for you, but a positive alternative is Adoption. Families who are unable to have children are willing to adopt your child into their loving family. Making an adoption plan does not mean you are giving up. We have adoption resources ready for you. We can give you more information on adoption or connect you with an adoption agency. 
Raising My Baby
Parenting may seem like a difficult option, but we have resources that can help you feel more confident about becoming a parent. Parenting is challenging, but you are not alone. We walk beside you, offer parenting classes, and provide resources and support.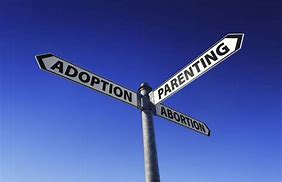 Believe in yourself! Have faith in your abilities! -Norman Vincent Peale